Today is World Prematurity Day. The hope is to raise awareness about just how many babies are born too soon. It's been a day of mixed emotions for me. Jillian has been on my mind constantly, which isn't abnormal, but the day makes my heart feel even heavier. At the same time, I'm lifted by the sweet boy who is my constant companion, and who can bring a smile to my face without doing a thing. I just have to think of him and my heart is overflowing with joy.
In addition to World Prematurity Day, Elisa at is having a book launch today. Her book, The Golden Sky, is about the loss of her infant son. In honor of her son and her book, I am participating in a blogfest that she has arranged.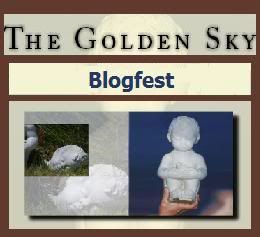 For the blogfest, I'm going to tell our story again. I'm going to try to keep it short, but I could probably write for three days straight and still have plenty to say.
Goodnight Nobody

I got pregnant in July 2009. For the most part, my pregnancy was uneventful. I had some unexplained bleeding and was so nauseated all the time that I would lie in bed and cry in the morning, but other than that, everything seemed great. Dave and I were 100% positive that we were having a boy. There was no reason for our prediction. We found out in October that we were wrong, and we immediately fell in love with our little girl. We decided on her name pretty quickly. We chose Jillian because it was pretty, and her middle name, Hannah, was in honor of my late grandmother.
My mother had a history of losses, two baby girls, due to incompetent cervix. I googled "incompetent cervix hereditary" more times than I can count, and I had two conversations with my OB about it. I was assured by Dr. Google and my actual doctor that there was no research showing anything hereditary about it, and when my cervix was long and closed at my anatomy scan, I stopped worrying about it.
About six weeks later, on December 5, the world started falling apart. Dave and I were getting ready for a Christmas party when my water broke. I knew what it was almost immediately, but I was hoping I was wrong. I remember when a nurse called me back and told us to get to the hospital – she said, "okay, so your water broke?" and the tiny bit of hope that I was wrong disappeared.
When we got to the hospital, I had an ultrasound that showed my cervix was essentially gone. I was completely dilated and effaced. I still had a decent amount of fluid left, and the hope was that I would be able to continue my pregnancy on hospital bed rest and avoid infection. I received drugs to stop the contractions that had started and received my first (and subsequently only) steroid shot to help Jillian's lungs. We had a NICU consult, and as the neonatologist was going over the problems that 24 weekers often face, I was only half listening. I kept thinking that she wouldn't be born right away, so we didn't even need all this information.
Things calmed down a little bit, and my OB said I could have some dinner. Eating wasn't easy, but I tried to force down some soup. A little while later, I was being rolled from side to side because Jillian's heart rate kept disappearing from the monitor. The next thing I knew, I was being wheeled into an operating room. They took Jillian out so fast, and I heard her tiny cries when she first came out. I still can't believe I heard it with everything that was happening, but I was so thankful because it meant that she was alive. She was whisked away to the NICU. The rest of the surgery seemed to take forever.
Dave went to see her while I was in recovery, and I don't even remember what he told me. Actually, I don't even remember him going, but I know he took pictures of her with my phone. Once I was out of recovery, my bed was wheeled to the NICU to see her. It was terrifying. I was allowed to touch her, but I was so scared that I was going to hurt her. I had trouble connecting that this tiny little baby was the one who had just been in my belly, and that she was the same person who we had all these dreams and plans for. I just couldn't wrap my head around anything that was going on.
The next four days were the best and worst days of my life. We spent as much time as possible at her bedside. We dealt with the ups and downs that every parent of a micro preemie faces. Early on, we realized that there was a good chance that we might have to say goodbye to our beautiful little girl, but we had to hope that she would survive. I think I aged about five years every single time someone walked into my hospital room, every time the phone rang, and every time we returned to the NICU and got an update. The most joyous moments were when I got to put swabs of colostrum in her mouth. I remember her primary nurse telling me that she would recognize the taste, and she clearly did. She would open her tiny mouth and wrap her tongue around it. It was amazing to see, and my heart still pounds when I close my eyes and picture it.
Every moment that passed with Jillian still here felt like a miracle. By December 9, I was even more of a wreck. I was being discharged the next day, and we were terrified to leave her there. We only live 2 miles from the hospital, but we were afraid that something would happen when we weren't there. I didn't know how we would sleep at night, or how we would do anything, really. We discussed that we'd spend Christmas at the hospital, and it seemed like such an awful prospect, but little did I know that I'd soon be wishing we had to spend Christmas at the hospital.
Looking back, it was clear that day that something was wrong. Jillian had been very active since she was born, but on December 9, she was pretty still. It was good, because she needed to rest, but there was a marked change. Later in the day, I was standing at her bedside and one of the neonatologists said we would be having a family meeting shortly to "discuss some developments." I immediately felt like I was going to throw up. I knew it was over.
During this meeting, we learned of Jillian's "catastrophic" brain hemorrhage. The doctors told us that she would have zero quality of life if she survived: she would always be hooked up to machines and she would never know us. We knew before they even finished talking that we needed to remove her life support. They told us that we didn't need to rush our decision, but we weren't rushing, and once our next steps were clear, they told us that we were doing the right thing. Even though we were firm in our decision and have never questioned it, it was impossible to believe that we were letting her go.
She was moved to a private room, and we spent time holding her, talking to her, and reading stories. We read Goodnight Moon, Guess How Much I Love You, and Make Way for Ducklings. We told her that we were the luckiest people in the world because we got to be her parents, we made a promise to try to be happy again, and we told her over and over again how much we loved her. Holding her was a dream come true and my worst nightmare all at once. My life felt complete, but I knew that it was about to be shattered.
She passed away in my arms shortly after her ventilator was removed. I remember thinking that no parent should ever have to lose a child, but I felt like I was receiving the greatest gift because we got to hold her and tell her how much we loved her as she peacefully slipped away.
The doctors told us that Jillian would never know us, but I actually think they were wrong. I think she knew exactly who we were. Even with her brain destroyed, she seemed like she was burrowing into me as I held her. She was so warm against my chest, and I swear sometimes I can still feel the weight of her there. I know exactly where she was, and it feels like I was branded by her little body.
At some point over the next several weeks, Dave and I started picking up the pieces. It took a while to even start. We were in a blur for such a long time after she died. Every night when we went to bed, I couldn't figure out how I was going to wake up the next day. I had nothing to live for, except the promise that we made to Jillian before she died. I sometimes still don't know how we survived.
One thing that I think is hard for some people, even me, to understand is how permanently damaged we are. It's been almost two years, and we are so happy now, but we still struggle. Every day, there are reminders (not that we need them). Even though we have Ian here now, some days are really hard. Jillian is missing, and I don't imagine that holidays and important events will ever stop feeling like she should be there. To this day, I still forget sometimes that she's already come and gone, and realizing that she will never grow up, never know her brother, and never be here is like a knife in my heart.
We read Goodnight Moon to Ian every night, and my voice catches every time I read "goodnight nobody," just like it did when we read it to Jillian. As we read to her, it made me think of how we soon wouldn't have her to say goodnight to anymore. When I read it to Ian, that feeling sometimes returns for a beat, and sometimes for longer. Our lives were forever changed. We'll be okay – we are okay, We'll never be healed, but we will never stop being thankful for the time that we had.