A box was delivered to my hospital room right around the time we found out about Jillian's brain hemorrhage. I didn't open it because we were obviously focused on other things, but right before we left the room to begin saying goodbye, I noticed the word "blanket" on the box. I had been upset because I hadn't finished the blanket I'd been knitting for Jillian, but I wanted to be able to use a special blanket while we were holding her, so I tore into the box. Inside was a gift basket with a pink blanket, a small photo album, a frame, and a kit with plaster to take a baby's hand and footprints. The timing and the items were perfect.
I found the card and discovered it had been sent by a group of friends from the internet. I've never met any of these amazing women, except for one (and that didn't happen until I was in the hospital), but they have been so supportive to us since everything happened (and before then, but the support since then has been overwhelming and amazing). I will forever be incredibly thankful for the support they've provided, as well as the gift they sent. The blanket they sent, which we used with Jillian, is now a fixture on our bed, and the hand and foot print kit allowed us to create what is now the most treasured object we'll ever possess.
Jillian's hand and foot prints: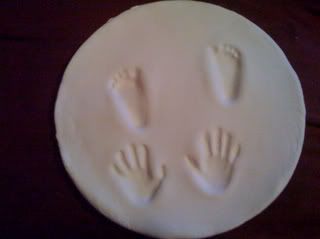 Jillian's foot prints are about 1.75 inches long. They are miniature versions of mine, which is amazing to me. Our feet are identical, and it's hard to see in this picture, but our pinkies are bent in the exact same way.
I finished Jillian's knit blanket today. It's not perfect, but I'm okay with that. I guess I realize how how unimportant that is. It hurts my heart to think about how many times I imagined wrapping Jillian in it before we came home from the hospital. I hope we'll be able to give it to our next baby before too long.