June 3rd, 2010
Only a few people have seen this picture. I have been very hesitant to let anyone see it, and not just on the internet. Almost six months after she was born, I'm finally ready to share it with the world (I think). I'm still pretty apprehensive to post it, but at the same time, I want everyone to see how beautiful and perfect she was.
Only one stranger has seen this photo. It was a little girl sitting next to me on a plane last month. It's the background on my computer, and when I turned it on, she asked if the baby was mine, and then asked if she was a boy or girl. Her questioning terrified me, because I was so afraid she would ask what the tubes were for, or why she was so tiny, or why she wasn't with me. She was an unaccompanied minor, so there was no parent there to guide me with my answers. How would explain to total stranger, a young child, why my daughter is no longer with me? When I told her that Jillian was a girl, she just said, "she's pretty" and went back to whatever she was doing as I sat there trying not to start bawling. It's one of those moments that I'll remember for the rest of my life. That little girl gave me the courage to share this picture here.
December 26th, 2009
There is a wonderful organization called Now I Lay Me Down to Sleep that provides free photography to families who are experiencing the loss of a baby. A wonderful photographer came to the hospital the night that Jillian passed, and took pictures of us as a family as we prepared to say goodbye to her.
Dave and I don't plan to share most of these photographs with anyone. We do have this picture framed and on display in our home, so I'm comfortable sharing it here. In this picture, Jillian is on my chest. I can't help but smile when I think of this moment. She was so warm and snuggly and clearly very comfortable. Even with all the moments of doubt I've had about her knowing who I was, remembering the time I spent holding her makes it obvious that she knew exactly who I was.
[picture removed]
Uncategorized
|
Comments (13)
December 22nd, 2009
A box was delivered to my hospital room right around the time we found out about Jillian's brain hemorrhage. I didn't open it because we were obviously focused on other things, but right before we left the room to begin saying goodbye, I noticed the word "blanket" on the box. I had been upset because I hadn't finished the blanket I'd been knitting for Jillian, but I wanted to be able to use a special blanket while we were holding her, so I tore into the box. Inside was a gift basket with a pink blanket, a small photo album, a frame, and a kit with plaster to take a baby's hand and footprints. The timing and the items were perfect.
I found the card and discovered it had been sent by a group of friends from the internet. I've never met any of these amazing women, except for one (and that didn't happen until I was in the hospital), but they have been so supportive to us since everything happened (and before then, but the support since then has been overwhelming and amazing). I will forever be incredibly thankful for the support they've provided, as well as the gift they sent. The blanket they sent, which we used with Jillian, is now a fixture on our bed, and the hand and foot print kit allowed us to create what is now the most treasured object we'll ever possess.
Jillian's hand and foot prints: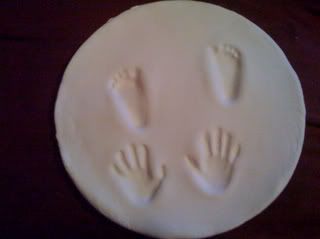 Jillian's foot prints are about 1.75 inches long. They are miniature versions of mine, which is amazing to me. Our feet are identical, and it's hard to see in this picture, but our pinkies are bent in the exact same way.
I finished Jillian's knit blanket today. It's not perfect, but I'm okay with that. I guess I realize how how unimportant that is. It hurts my heart to think about how many times I imagined wrapping Jillian in it before we came home from the hospital. I hope we'll be able to give it to our next baby before too long.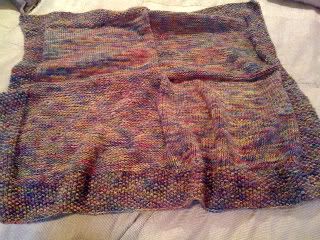 Uncategorized
|
Comments (15)